Omsky Biocluster took part in TECHNOPROM-2018
29

August 2018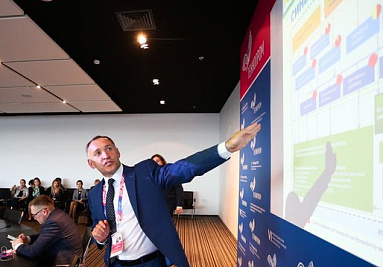 August 28, Omsky Biocluster took part in the International Forum of Technological Development TECHNOPROM-2018 in Novosibirsk. Within the framework of the 3rd Forum of Silk Road Hi-Tech Parks Association, the forum participants from China got acquainted with the investment opportunities of the Agrobiotechnological and Petrochemical Industrial Clusters of Omsk region, as well as Titan Group as a key member of the clusters.
The Chinese delegation included representatives of Chinese party and government bodies, development institutions and investment structures. Moderator of the Silk Road Forum, director of the Association of Clusters and Technology Parks of the Russian Federation Andrey Shpilenko especially noted the investment attractiveness of Omsk cluster projects, expressing confidence that Chinese investors will be able to find specific investment points within the intracluster production chains, and Titan Group has ready investment cases for potential partners of clusters.
"The legislation of the Russian Federation reliably protects foreign investment and offers a wide range of state support to investors. The Association of Clusters and Technology Parks is ready to support Chinese partners in take shape cluster investment projects for their implementation in accordance with the legislation of the Russian Federation," said Shpilenko.