OLEG BEDSKIKH: MANUFACTURING COOPERATION TODAY IS SPECIAL INDUSTRIAL TREND
15

July 2019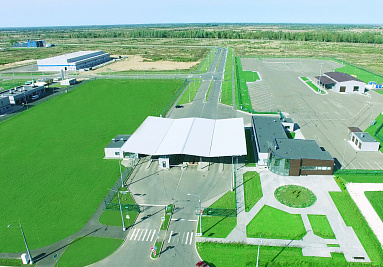 Acting Director of SEZ "Moglino" told about opportunities for little and medium companies which are given by Special Economic Zones tool, how SEZ manages staff questions and about international cooperation.
Do SEZs have an impact on the competitiveness of products? If they do, which impact will they have?

Answer: Saving on production costs due to tax and customs privileges, SEZ tenants enjoy the opportunity to produce more price competitive products of higher quality applying modern technologies at new production facilities.
In addition, a full cycle of production opportunity in a single territory provides a considerable social impact in terms of creating new high-performance jobs and increase in production efficiency.

How much are SEZs responsive to the development of innovative industries?

Answer: Special economic zones, in fact, are the center of innovative industries as incoming industrial enterprises are being re-established with the most advanced equipment. Due to cost reduction, SEZ tenants "can afford" the most advanced software and the most modern technologies in production, construction, environmental and industrial security of their enterprises.
The growing number of tenants conducting technical innovation activities in special economic zones confirms SEZ attractiveness for innovative industries. Close cooperation of regional administrations and management companies of industrial sites with regional educational institutions allows tenants to open company research centers and cooperate with federal and regional educational structures to conduct high-quality research and career guidance work.

What are the plans for the industrial development of the region in 2019?

Answer: The key task of SEZ in the region is the establishment of high-tech and safe industries, as well as social development of the region.
Moglino SEZ is attracting enterprises to build a platform for cluster development and cooperation between SEZ tenants and enterprises in the region.
In 2019, our benchmarks are the attraction of new tenants and the start of facilities construction by existing ones.


Does the regional economy feel the impact of SEZ presence? How would you describe that? What are the opportunities for SMEs with the emergence of industrial SEZ?

Answer: SEZ itself and tenants are potential customers and suppliers for regional enterprises, regardless of their profile or size; they also provide resources for the development of new business directions. Thus, by the way, the products of Moglino SEZ tenant "Titan-Polymer" create a platform for the development of printing, textile, packaging, protective films and screens, non-woven materials and other types of production; and the company itself will become one of the largest consumers of pallets, paper bungs, strapping tapes, medical, transport, cleaning and other services in our region.
In addition, companies of the Pskov region and beyond get the opportunity of servicing contracts which undoubtedly has a positive impact on business efficiency and regional economy.

What is today's level of dialogue between the regional government and business?

Answer: The administration of the Pskov region is interacting constantly with the management company and our tenants. Moglino SEZ tenants and potential investors promptly receive information on federal and regional support measures, participate in marketing activities organized together with regional structures in the region and beyond.

Is the state support to regional industries sufficient?

Answer: The key issues for any industry are: provision of industrial infrastructure, comfortable tax regimes and human resources potential of the region. For Moglino SEZ tenants, the first two issues have been solved — today, the entire utility infrastructure meeting the needs of modern industrial enterprises, is ready to use; SEZ tenants have zero rates on income, transport and land tax* (* more information on www.moglino.com), as well as customs privileges on foreign equipment import.

As for human resources, it should be noted that the Basic University of the region - Pskov State University, is working on a strategic project "Center for Innovation of Industrial electrotechnical cluster of the Pskov region and Special economic zone of industrial and production type Moglino", which is aimed at creating an environment for timely provision of large industrial enterprises with highly qualified personnel.

The interests of investors in the Pskov region are guarded by the Administration of the region, Moglino SEZ management company, Pskov Region Investment Development Agency, Export Support Center, Fund for guarantees and development of entrepreneurship of the Pskov region and business associations of the region.
Therefore, it is safe to say that SEZ tenants enjoy maximum state support.


You are actively developing interregional cooperation within the framework of SEZs. What is the benefit for business and region?

Answer: Building business ties with neighboring regions and their enterprises creates a platform for industrial cooperation, which, in turn, today is a kind of industrial trend. This interaction at the regional level makes it easier for enterprises to find each other.
In addition, the opportunity to exchange experience with our colleagues from other regions allows us to keep abreast of current trends in the industrial sphere.

Can SEZ be considered a new stage of industrial development in the region/country?

Answer: Moglino SEZ is an integral part of Pskov region investment ecosystem. Such platforms today are the foundation for the development of regional industry, a kind of global measure of business support. Without additional incentives in the form of ready-made infrastructure and tax preferences, it is difficult to set industrial development goals today.

How does the launch of "Special economic zone of industrial and production type "Moglino", JSC affect the investment attractiveness of the Pskov region and the entire north-west?

Answer: Moglino is a kind of investment "magnet" which is aimed at launching new productions and creating jobs in the region. It is expected that the tenants' products will create a platform for the development of existing businesses - involving them as contractors to perform works and supply products; these products will also become a driver for the development of new industrial directions, especially in the field of SMEs.
What are the preferences and benefits offered to Moglino Special economic zone tenants?

Answer: Moglino SEZ offers tenants a full set of possible tax benefits: full exemption from the regional part of income tax for 5 years from the date of the first profit, zero rates of transport, land and property tax for the period of up to ten years. In addition, the presence of a customs clearance point on SEZ territory allows tenants to save time on customs procedures and also save money on customs duties when importing foreign equipment.
But, perhaps, the key benefit for Moglino tenants is its advantageous geographical location and ready-to-use industrial infrastructure. On the one hand, Moglino is only 45 kilometers from the border on the European Union, on the other hand, the largest cities of our country are located in only several hundred kilometers: Moscow and St. Petersburg. Existing road and railway connections allow fast delivery of products manufactured in Moglino to any corner of our planet.

Which tenants are ready to work (are already working) with Special economic zone of industrial and production type "Moglino", JSC? Are there any difficulties in attracting tenants to Special economic zone of industrial and production type "Moglino"?

Answer: At the moment, Moglino SEZ has 11 registered tenants who will build their plants to produce municipal equipment, medicines, cable products, construction panels, and polymeric materials.

Today, Finnish investor Nor-Maali LLC are operating their plant producing paints and varnishes for industrial purposes. Sibirsky Gostinets, PJSC has launched the production of freeze-dried food ingredients.

I cannot say that we are experiencing any difficulties in attracting investors — the interest in Moglino SEZ is very serious today. It should be understood that the site became fully operational only in the end of 2017, when the infrastructure construction was completed.

If to speak about any difficulties, I should mention the existing challenges in terms of financing investment projects all over the country. Unfortunately, today the projects with a full financial support are scarce - investors are trying to join existing state support programs, they develop optimal financial schemes, which undoubtedly affects the time period from tenant's registration to the actual start of production.

Does the work contribute to the localization of foreign production? What other measures (possibly) need to be taken to improve the investment climate? How can you estimate the effect of Special economic zone of industrial and production type "Moglino", JSC for the economy of the region?

By the way, today about 50% of Moglino SEZ investors are foreign companies. Further to the convenient and understandable location of the Pskov special economic zone, an additional argument in our favor is the "one-stop-shop" approach implemented by the management company. For foreign businesses coming to Russia it is very important to have one consultant on any issues related to production launch in our country. The experience of the management company employees and existing partnerships, close cooperation with governmental and educational institutions, helps us to support our tenants at every step of their investment project implementation.
The diversity in the specialization of the special economic zone, allows enterprises from various fields: from construction materials to food industry.

In addition, our site offers the opportunity to locate technical and innovation facilities, two such companies are planning to work in this direction.

Understanding the high technicality of modern enterprises, the production facilities placed in the SEZ will create modern workplaces, which will become a foundation for research and development centers, which in turn should become a driver of increasing innovative, human resources and investment attractiveness of the region.